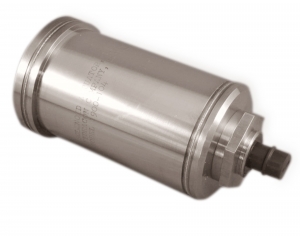 Ocean Submersible
Seal-less, Magnetically Coupled
The force is unaffected by the ocean pressure
Corrosion resistant stainless steel
Electron beam welded
Meets IPX8 of IEC529
This solenoid can be used for pulling latch pins, toggles, or for releasing hard ballast. Read more about Pulse Operation of DC Solenoids.
Other models available.
Specifications
Electrical: 2 amps @ 24vdc (continuous duty)
Design ambient ocean depth pressure to 4,500 psi
Stainless steel welded construction
Weight: 4.2 lbs.
Size: 2.5" dia. x 4.0" long (plus connector)
Available with choice of underwater connector
Armature included
Pull force (lbs.) vs stroke (air gap) for Model 1900-104 (approximate values)
| Volts / Air Gap | .062″ | .125″ | .188″ | .250″ |
| --- | --- | --- | --- | --- |
| 12 VDC | 22 lbs. | 7.5 lbs. | 3.5 lbs | |
| 24 VDC | 46 lbs. | 26 lbs. | 16 lbs. | 8 lbs. |
| 36 VDC | 55 lbs. | 38 lbs. | 26 lbs. | 18 lbs. |