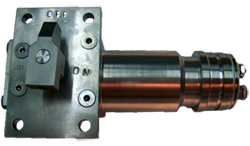 Specifications
Rotary Switch, dual SPDT, 2 Position, Normally Closed
Electrical: 7.0 amp resistive,4.0 amp inductive,2.5 amp lamp load,28vdc or 115vac, 60hz
Available N.O. or N.C.
Ambient depth pressure: 9,000 psi
Materials: 316 CRES Steel,Glass sealed header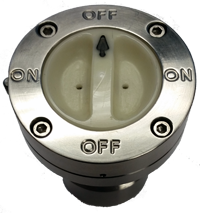 Hydro Dynamic shape for underwater vehicle.
Specifications
Rotary Switch, diver operated, on-off, 2 position, hydrodynamically shaped to the vehicle's curvature.
detented, magnet coupled, 4 internal switches,
Normally open switches: Form A, SPST
Contact rating: Switching voltage: 230 VDC/VAC max.Switching current: 3.0 AMPS max.Switching capacity: 60 W/VA max.Carrying current: 4.0 AMPS max.
Detented rotary knob.
Operation: All 4 switches on in "ON" positions,all 4 switches off in "OFF" positions.
Magnet coupled, no dynamic seals.
Thru bulkhead design with dual static o-rings.
Leadwires provided. Connector optional.
Wet side is submersible to 1,000 ft ocean depth.
Materials: stainless steels, delrin. 11. Size: 2.75" max. dia. x 3.4" long
Weight: 40 oz. S.S. or 28 oz. Alum.